Spring/Summer 2018 has brought with it a stunning host of high quality album releases for Evelyn. These recordings from Delphian, Audio Network and Ubuntu Music showcase the sheer breadth and cross-genre experimentation of Evelyn's current collaborative work. Whether performing John McLeod's Percussion Concerto or contributing to the artistry of Trio HLK's innovative Jazz tracks, artistic quality is a running theme throughout these projects, which take the listener on evocative journeys from the classical concert hall to the cinema and finally, an urban Jazz Club.
Delphian bring us a crystalline recording of John McLeod's compelling orchestral music, featuring the 'Percussion Concerto' written for Glennie thirty years ago. The tracks, including 'Out of Silence' and 'The Shostakovitch Connection' demonstrate McLeod's profound study of The Russian Master's 5th Symphony and the scope of McLeod's talent. Please listen to some audio-previews below!
Released: June 22nd, Delphian.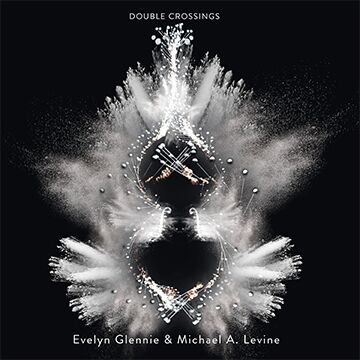 Double Crossings is the product of a fascinating collaboration between well known American Film & TV composer, Michael Levine and Evelyn Glennie. Released by Audio Network, the album features a spectrum of tracks that are rich in cinematic mood and atmosphere.
Released: 25th May, Audio Network.
Trio HLK's debut album, 'Standard Time,' approaches the familiar in sophisticated and surprising ways. The Jazz standards 'become the seeds for entirely new pieces' (Bandcamp). Here, Dame Evelyn's percussion playing complements the virtuosic skills of Rich Kass on drums, Richard Harrold on Piano and Ant Law on guitar – a trio who have consistently wowed 2018's festival audiences.
Released: May 11, Ubuntu Music.