---
Evelyn's written work comes in many forms. Her personal thoughts are published on this website as essays and blog posts. In addition, Evelyn has written for printed publications, which includes her own autobiography and a growing number of contributions to books by a range of authors. Below you can browse through a reference list of Evelyn's written work for printed publication, both as an author and a contributor.
Image: Juliette Culver (licence: CC BY-NC-SA 2.0)
---
---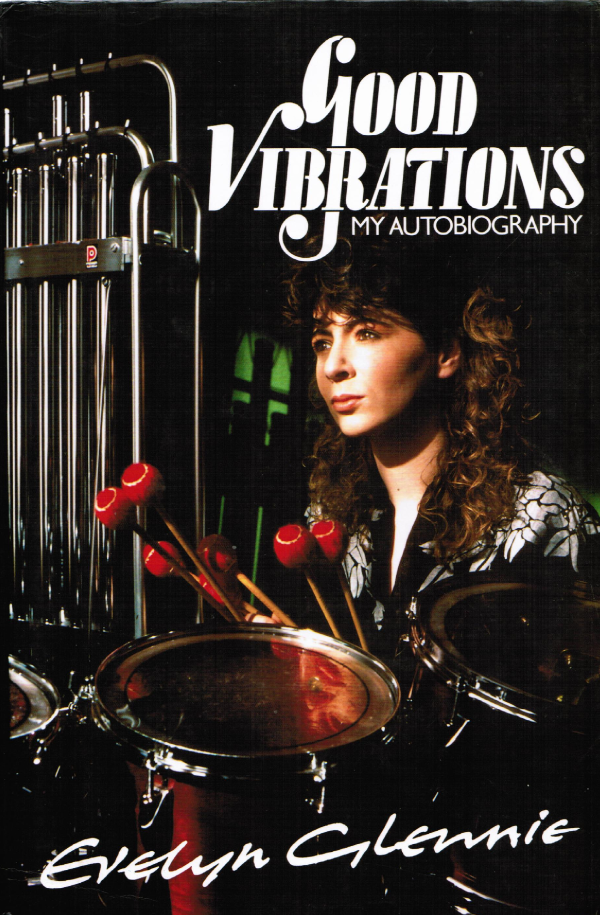 ---
Good Vibrations: My Autobiography
May 1990
Hutchinson
ISBN: 091743052
Good Vibrations is Evelyn's Story, in her own words, of how she achieved so much. We follow Evelyn from her simple upbringing on a farm in the North-East of Scotland, through her childhood battles not to be sent to a school for the deaf where her prodigious musical talent would have remained undiscovered, to her extraordinary schoolgirl performances as a remarkable percussionist. A testimony to one woman's courage and determination to succeed, whatever obstacles life might put in her way, Good Vibrations is a book that resounds with music, hard work and sheer love of life. 'You have made history' were the words of the famous percussionist James Blades as rapturous applause greeted Evelyn's first Prom. She has made history in more ways than one.
---
The following contributions account for interviews, extended quotes, responses to general questions, chapter contributions, forewords, etc. The list does not include publications that have made use of biographical material or other generally available information about Evelyn.
---
| Title | Author(s)/Editor(s) | Publisher | Publication Date | ISBN |
| --- | --- | --- | --- | --- |
| Listen: How Evelyn Glennie, a Deaf Girl, Changed Percussion | Shannon Stocker | Penguin Books | April 2022 | 0241547687 |
| Conversations | John Palmer | Vision Edition | March 2015 | 0993176104 |
| Only Remembered | Michael Morpurgo | Jonathan Cape Childrens | July 2014 | 0857551280 |
| Don't Just Sign... Communicate! : A Student's Guide to the Deaf Experience | Michelle Jay | Judea Media | December 2013 | 0984529470 |
| A History of the World in 100 Objects | Neil McGregor | Penguin | June 2012 | 0241951771 |
| Musical Pathways | Chris Harrison & Liz McCullough | National Association of Music Educators | September 2011 | 0956654517 |
| The Imagination Can Reach Up Into Itself and Grasp the Universe | VSA | VSA | 2011 | n/a |
| From Tragedy to Triumph: 100 Amazing and Inspiring Comebacks | John F. Groom & David Noon | Attitude Media | October 2010 | 0963270141 |
| Hearing, Feeling, Playing | Shirley Salmon | Reichert Verlag | May 2009 | 3895006211 |
| Days Life This: A Portrait of Scotland through the Extraordinary Stories of its People | Scottish Book Trust | Luath Press Ltd | February 2009 | 1906307970 |
| 1 Piece of Advice | Patricia J. Messer-Stern & Barbara K. Mosser | 1 Piece of Advice Inc. | January 2009 | 098108320X |
| Foundations of Physical Science (Third Edition) | Tom Hsu, PhD | Cambridge Physics Outlet | 2009 | 1604310146 |
| Touched by Robert Burns | Andy Hall | Birlinn | October 2008 | 1841586889 |
| Self-Help for the 21st Century | Malcolm Good | Luath Press Ltd | July 2008 | 190630758X |
| Learning for Life: From Inspiration to Aspiration | David Lorimer | Learning for Life | March 2008 | 095353331X |
| Meet the Instruments of the Orchestra! | Genevieve Helsby | Naxos Books | March 2007 | 1843791129 |
| The Illustrated Musical Instruments Handbook | Lucien Jenkins | Flame Tree Publishing | August 2006 | 1844514206 |
| Musical Communication | Dorothy Miell, Raymond MacDonald & David J. Hargreves | Oxford University Press | July 2005 | 0198529368 |
| Water Music | Marjorie Ryerson | University of Michigan Press | August 2003 | 0472113380 |
| The Mastery of Music: Ten Pathways to True Artistry | Barry Green | Crown Archetype | May 2003 | 0767911563 |
| The World of Women in Classical Music | Dr Anne K Gray | Word World Publishing | March 2003 | 1599753200 |
| Björk: There's More to Life Than This | Ian Griffiths | Thunder's Mouth Press | November 2002 | 1560254165 |
| St Magnus Festival: A Celebration | Pamela Beasant | Orcadian Ltd | June 2002 | 1902957172 |
| Voices | Jim Reisler | McFarland & Co. Inc. | May 2002 | 0786412662 |
| A Sense of Belonging to Scotland: The Favourite Places of Scottish Personalities | Andy Hall | Mercat Press | 2002 | 1841830364 |
| Post | Björk Guðmundsdóttir | Bloomsbury | September 2001 | 0747523738 |
| The Young Musician's Survival Guide: Tips from Teens and Pros | Amy Nathan | Oxford University Press | May 2000 | 0195367391 |
| Rhythm & Beauty: The Art of Percussion | Rocky Maffit | Watson-Guptill Publications | July 1999 | 082308406X |
| The Virtuoso | Ken Carbone | Stewart, Tabori & Chang | April 1999 | 1556709080 |
| Musical Prodigies | Claude Kenneson | Amadeus Press | December 1998 | 1574670462 |
| These I Have Met... | James Blades | Thames Publishing | December 1998 | 0905210778 |
| Being Deaf | Maggie Wooley | Belitha Press | August 1998 | 1855617978 |
| Unstoppable: 45 Powerful Stories of Perseverance and Triumph from People Just Like You | Cynthia Kersey | Sourcebooks | July 1998 | 1570713383 |
| A Scottish Childhood: Over 70 Famous Scots Remember | Nancy E. M. Bailey | HarperCollins | April 1998 | 0004721764 |
| Silver Linings: Triumphs of the Chronically Ill and Physically Challenged | Shaena Engle | Prometheus Books | November 1997 | 1573921718 |
| Reflections on Success | Martyn Lewis | Lennard | May 1997 | 1852977328 |
| Living Legends: Six Stories About Successful Deaf People (Volume I) | Darlene Toole | Butte Publications | May 1996 | 1884362133 |
| Great Journeys of the World | Ernie Dingo, Evelyn Glennie, Damian Gorman, Tony Robinson, Juliet Stevenson & Sandi Toksvig | BBC Books | November 1994 | 0563370505 |
---