Evelyn Glennie and Emmylou Harris have been named the Laureates for the 2015 Polar Music Prize, which will be presented by King Carl XVI Gustaf of Sweden in Stockholm on 9 June. The announcement was made moments ago in Stockholm's City Hall by Alfons Karabuda, chairman of the Prize Committee.
The award ceremony for the 24th annual Polar Music Prize will be broadcast live on Swedish national television (TV4) at 20:00 Central European Time on 9 June. You can watch the broadcast throughout Europe via TV4 Play. Each recipient will receive 1 million Swedish Krona in prize money.
Marie Ledin, Managing Director of the Polar Music Prize, said: "In Evelyn Glennie and Emmylou Harris, the Foundation has chosen two exceptional Laureates for this year's Polar Music Prize, as both represent the spirit of the Award that my father envisaged when he founded the Prize. We look forward to honouring Evelyn and Emmylou and paying tribute to their exceptional music careers."
Evelyn Glennie said: "I was hugely humbled and inspired when I learned that I was to be awarded with the prestigious Polar Music Prize. To be chosen from so many deserving people, from all genres of music, only makes me want to work harder, to make a difference and to rise to the occasion. Accepting the Polar Music Prize is a great honour, for which I am extremely grateful."
Also part of the event, Evelyn has been invited to take part in the Polar Talks, which will take place on 8 June in Stockholm. The Polar Talks are an opportunity to debate current issues in the music industry.
About the Polar Music Prize
The Polar Music Prize was founded by Stig 'Stikkan' Anderson, the publisher, lyricist and manager of ABBA. The name of the prize stems from Anderson's legendary record label, Polar Music. The Polar Music Prize celebrates the power and importance of music and is awarded to individuals, groups or institutions in recognition of exceptional achievements.
The Polar Music Prize awards two Laureates in order to celebrate music in all its various forms and to emphasize the original intention of the Polar Music Prize: To break down musical boundaries by bringing together people from all the different worlds of music.
The board of the Stig Anderson Music Award Foundation includes representatives from the Stig Anderson family, SKAP (The Swedish Society of Songwriters, Composers and Authors) and STIM (The Swedish Performing Rights Society). The task of scrutinizing nominations submitted and selecting the Laureates is undertaken by an Award Committee comprising of experienced members of the music industry, representatives from the Anderson family, musicians, and previous Laureates. Laureates each receive a specially designed trophy and a cash prize of £78,560 (1 million Swedish Krona).
Click the logo below for more information about the Polar Music Prize.
---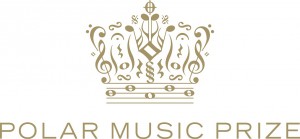 ---
Logo and Video: © Polar Music Prize
---
---