---
Here you can browse through the commercially-released video recordings that Evelyn has made. All entries contain artist and content details along with release dates, label and the label's catalogue number.
This videography is intended for reference only. We do not guarantee that all items are still commercially available. Those available for sale through the Evelyn Glennie Shop are provided with appropriate links. Evelyn's discography is listed separately.
Image: Matt (licence: CC BY-NC-SA 2.0)
---
Onward to Europe: Integrating The East and West
December 2012
Taipei Chinese Orchestra
A documentary film of the Taipei Chinese Orchestra's 2012 European Tour, which took the them to Manchester in the UK, Hanover in Germany and Paris, France. Follow the orchestra on this fascinating coming-together of cultures – an explosion of colour and dynamic musicianship.
Tour documentary. Original tour concert programme included:
Pei-Kuan: Stock Tunes – The Joyful Spring & Wind Through the Pines
Jiping Zhao: Following the Pagoda Tree in Search of the Root of Our Ancestors
Tan Dun: Crouching Tiger Hidden Dragon (version for Erhu and Chinese Orchestra)
Yiu-Kwong Chung: Concerto for Percussion and Orchestra
Tan Dun: Northwest Suite
Solo Percussion: Evelyn Glennie
Conductor: Yiu-Kwong Chung
Taipei Chinese Orchestra
---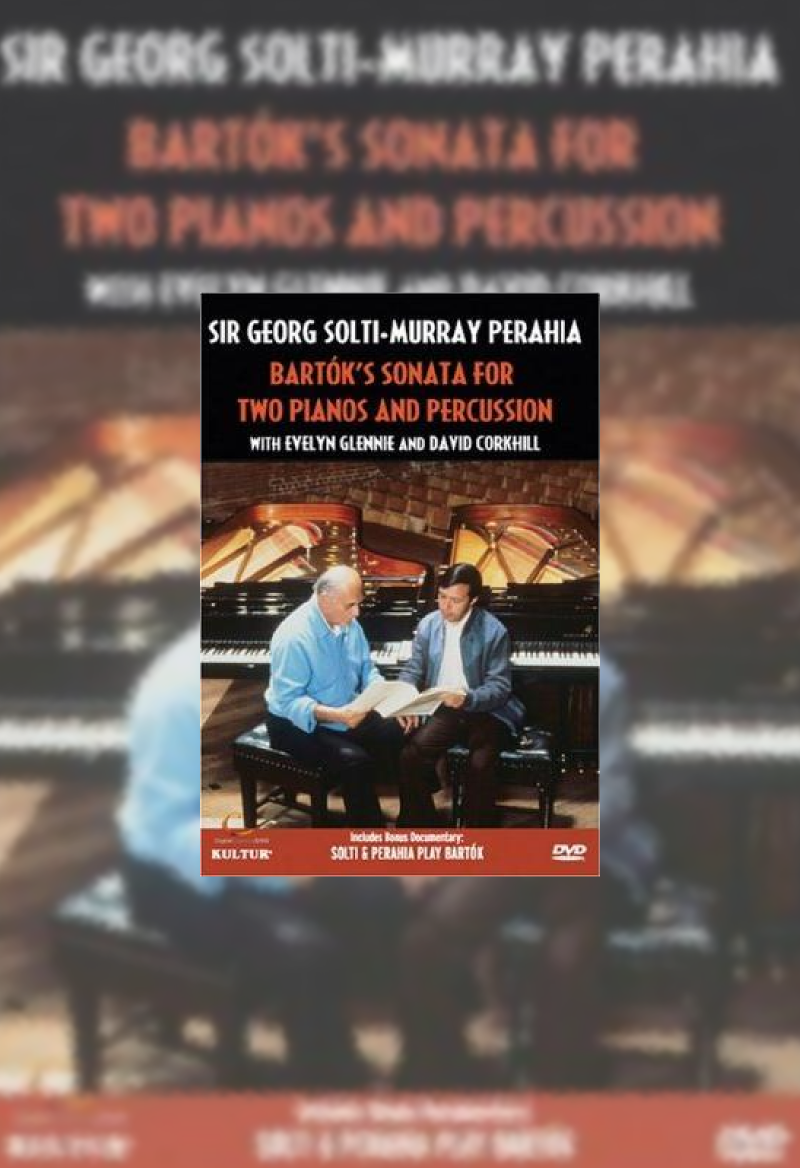 ---
Bartók's Sonata for Two Pianos and Percussion
September 2008
Kultur D4403
---
Evelyn Glennie á Luxembourg
September 2005
EuroArts 2054398
A breathtaking showcase of Evelyn's on-stage talent recorded live at the Grand Théâtre de la Ville de Luxembourg in 2004. Featuring exquisitely sensitive playing from the Orchestre Philharmonique du Luxembourg under the baton of Brawell Tovey, this is a performance not to be missed.
Beethoven: Overture 'Leonore III'
Másson: Konzertstück
Schmitt: 6 Miniatures for Marimba Solo
Vivaldi/Glennie: Concerto in C Major, RV 443 (originally for piccolo recorder)
Bonus Feature: Encountering Evelyn Glennie
Solo Percussion: Evelyn Glennie
Conductor: Bramwell Tovey
Orchestre Philharmonique du Luxembourg
---
---
Last Night of the Proms: The 100th Season
December 1994
Kultur D4388
In 1994 Britain celebrated the hundredth season of the best-loved of all its musical institutions, 'The Proms'. The hundredth season's concluding the concert – 'The Last Night of the Proms' – was conceived as a tribute to Proms founder Sir Henry Wood. The programme included Wood's own arrangement of Bach's famed Toccata and fugue in D Minor as well as perennial Proms favourite, his Fantasia on British Sea Songs. Wood was a great champion of new music and novelties, which led to the inclusion of Miki's Marimba Spiritual, performed by Evelyn Glennie who gave the first ever performance of a percussion concerto at The Proms.
Bach/Wood: Toccata and Fugue in D Minor
Walton: Belshazzar's Feast
Minoru Miki: Marimba Spiritual
Massenet: Méditation from Thaïs
Elgar: Pomp and Circumstance March No 1
Wood: Fantasia on British Sea Songs
Arne/Sargent: Rule Britannia!
Parry/Elgar: Jerusalem
Marimba: Evelyn Glennie
Baritone: Bryn Terfel
Conductor: Andrew Davis
BBC Singers
BBC Symphony Chorus
BBC Symphony Orchestra
---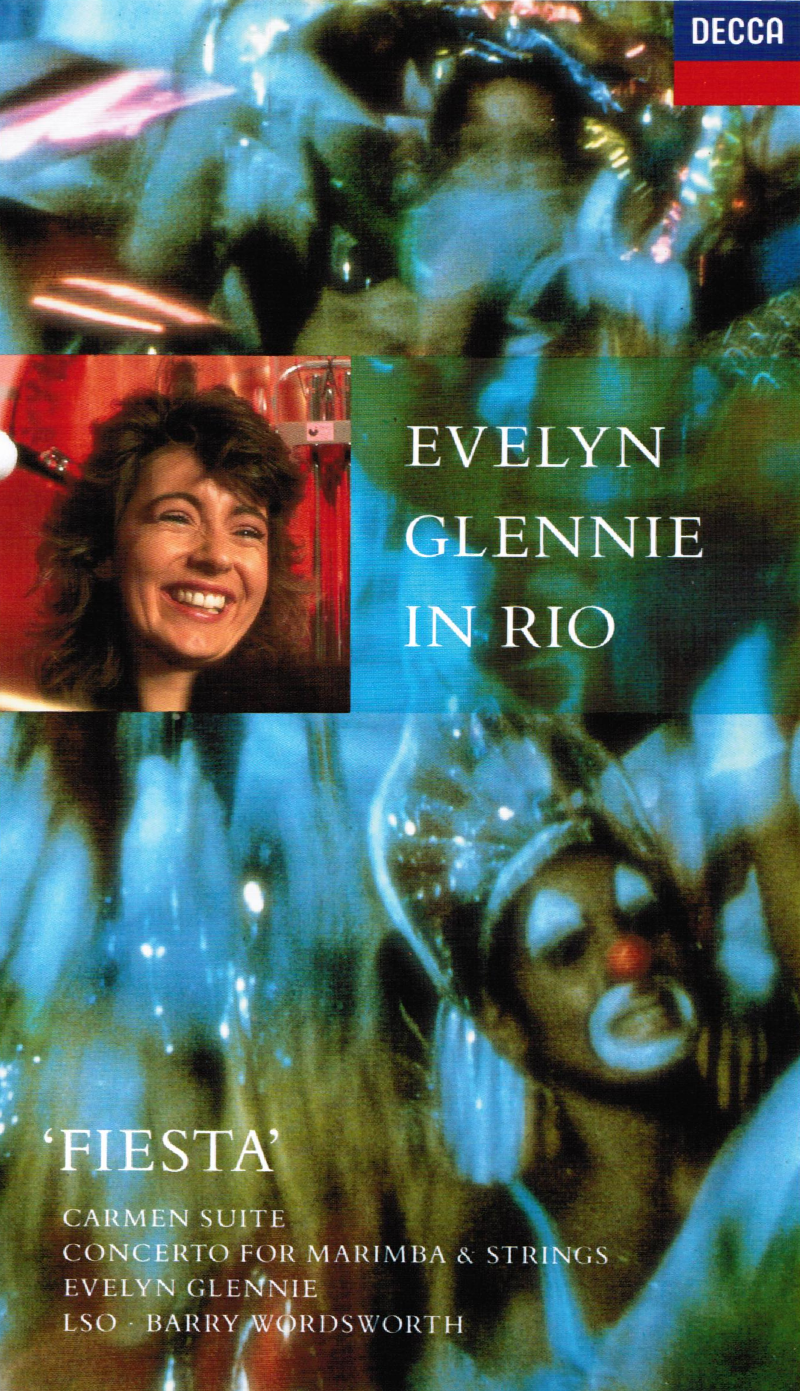 ---
Evelyn Glennie in Rio / 'Fiesta'
February 1992
Decca 071 121-3
This visual tribute to one of the most remarkable percussionists of our day, the prodigiously gifted Evelyn Glennie, gives us a rewarding insight into both the personal and professional appeal of this young artist. Her tastes in music have shown themselves to be as cosmopolitan as can be, for she gleans inspiration from all corners of the world; her admitted ambition is to be the David Attenborough of percussion, and her trip to Rio to explore the musical possibilities of the samba has much whetted her appetite in this respect. The documentary film of her visit to the world-famous South American carnival opens this introduction to Evelyn Glennie; she is shown at work (and at ease) with local musicians, taking part in the carnival procession itself, and bringing away with her an excitement about a liberating approach to music so much in tune with her own.
Evelyn Glennie in Rio:
Evelyn's early life
In Rio de Janeiro
The final rehearsal
The carnival
Looking back
'Fiesta'
Bizet/Shchedrin: Carmen Suite
Rosauro: Concerto for Marimba and Strings
Solo Percussion: Evelyn Glennie
Presenter: Melvyn Bragg (Evelyn Glennie in Rio)
Conductor: Barry Wordsworth ('Fiesta')
London Symphony Orchestra ('Fiesta')